Skip to Content
Vinyl Siding Replacement In Logan, UT
At Skabelund Exteriors, we have been providing professional, reliable, and quality vinyl siding installation, repair, and replacement to Logan, UT and the surrounding area for more than 30 years. We love our community in Northern Utah, and we know it well, which is why we have become a trusted name in residential rooftop repair and vinyl siding services. Over the years, our work has expanded to include repairing and cleaning gutters, downspouts, soffit, fascia, and vinyl siding, as well as providing professional vinyl siding installation.
We are committed to providing the highest level of customer service, as well as dependable, affordable, and efficient services to our community. If you're interested in new vinyl siding installation in Logan, UT, or vinyl siding repair or vinyl siding replacement, contact us today or reach out online for a free estimate.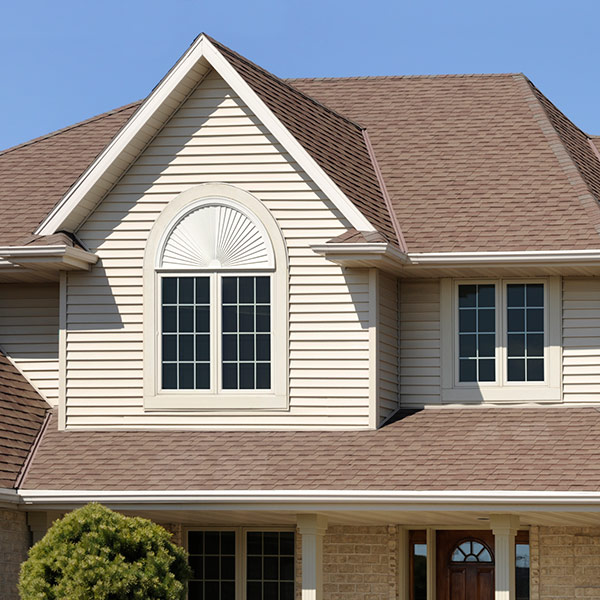 Vinyl Siding Replacement
We offer a free evaluation and estimate for vinyl siding replacement so we can determine that you really need replacement rather than repair. We don't want any of our customers to have to pay for something they don't need, so we will carefully review your vinyl siding to determine if it can be repaired before we recommend full vinyl siding replacement. Whether you're upgrading from another type of exterior, or your vinyl siding is old, cracked, and beyond repair, our experts can provide quick, professional vinyl siding replacement.
Vinyl siding replacement allows you to choose a robust, dependable, and attractive material for your home's exterior, while also increasing the resale value of your home and improving your home's energy efficiency. More and more people are turning to vinyl siding over other exteriors due to its ability to withstand harsh temperatures and weather while still looking attractive and tidy. If you're ready to consult with a local, dependable vinyl siding replacement company, call us at Skabelund Exteriors today.
Vinyl Siding Replacement Vs. Vinyl Siding Repair
Many customers contact us to find out if they would be better served by vinyl siding repair or vinyl siding replacement. While vinyl siding remains attractive and functional for years, there does come a point where the overall wear and tear is so extreme that it is more cost-effective to choose replacement over repair. Here are some of the situations in which vinyl siding replacement is a better choice over repair:
There are large or multiple areas of damage – If there are large areas of damage to your existing vinyl siding due to extreme weather, storms, or general wear and tear, it will be more cost-effective to you to replace the vinyl siding rather than repair it. Likewise if there are multiple areas of damage. At that point, you're better off replacing all of the vinyl siding at once for best results.
You may experience color matching issues – If the manufacturer of your existing vinyl siding is no longer in business or no longer makes vinyl siding in that color, you may not be able to find siding that effectively matches the existing color. This would make repairs look less cohesive and attractive. It may also be that your existing vinyl siding is too faded or discolored and even using the same siding for repairs would result in a color mismatch.
You have insurance concerns or conditions – You may have trouble filing an insurance claim or getting insurance reimbursement if you opt to repair your vinyl siding instead of replacing it. Check with your insurance company directly, as they all have different conditions and requirements.
It would cost more to repair than replace – In some cases, it would actually end up costing more for you as a homeowner to repair your vinyl siding rather than replacing it.
You're ready for a new look – If you're tired of your vinyl siding and want a new look, then vinyl siding replacement is the right choice for you.
You're trying to sell or rent your home – If you're trying to sell or rent your home, you'll be better served by opting for full vinyl siding replacement over vinyl siding repair. Vinyl siding replacement will ensure your home's exterior has a comforting, pleasing, and cohesive aesthetic overall.
 Contact Skabelund Exteriors
If you're interested in learning more about whether you'd benefit from vinyl siding replacement, call us at Skabelund Exteriors today. We have more than 30 years of experience in roofing repairs, vinyl siding installation, and vinyl siding repairs and replacements in Logan, UT. We can provide a free estimate and consultation to determine if you need vinyl siding repair or vinyl siding replacement. Just call us today or contact us online for more information.
Contact Us Today for Your Free Estimate